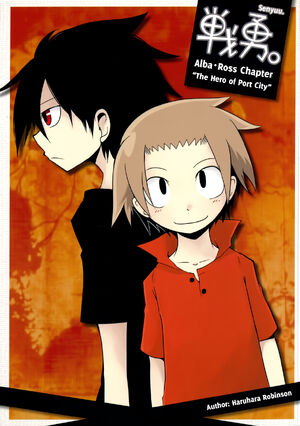 How Ross meets and decides to travel with Alba.
Summary
[
]
Ross wakes up confused and in an unknown place. Alba appears yelling to him to run away from the incoming tornado. Ross belittles him and tries to use magic against it but is unable. He then fools Alba into sacrificing himself so he can escape.
Alba finds Ross at a shop and the black haired expresses his surprise while the brown haired his complains. Cord, the owner of the shop, stops their fight and Alba explains how having set a shop in the middle of the dessert helped a lot of travelers from Alba's village. Cord asks Alba if he's staying the night to which he denies because he needs to reach the castle before sunset. Alba reveals that he was chosen as a hero and that Rchimedes was revived. Ross takes this as an insult to Alba's surprise.
A man comes in yelling that the tornado is coming back and Cord expresses his fears on not believing his shop will withstand it. The owner tells Alba to evacuate, especially since he was chosen as a hero candidate but the brown haired rebuts not believing a hero would do such a thing. Ross likes this but states that Alba is useless and to leave things to him.
In front of the tornado, Ross regrets his decision reaffirming his inability to use magic and wonders if he is going to die. Guilty Justice suddenly appears destroying the tornado. She states she felt Creasion's magic power but doesn't know his face. She notices Ross' weak magic power and celebrates his survival thanks to her. Justice disappears as quickly as she appeared leaving Ross to ponder the happenings. Meanwhile Cord continues trying to convince Alba to run but then both notice the disappearance of the tornado.
Alba manages to reach the castle in time and reencounters Ross. Ross introduces himself to Alba as a royal soldier while the true soldier lies beat up and hidden behind a pillar.
Characters that appear
[
]
Quotes
[
]
(Ross): Run away? From just this small of a tornado? Who do you think I am?
(Ross): Isn't it common sense to kill someone before you get attached to them?
(Alba): THEN WHY ARE WE DOING ROCK PAPER SCISSORS?! ARE YOU TRYING TO MAKE LAST MEMORIES?!
(Cord): Ah, you praise me too much, Alba-kun. I just… wanted to give a helping hand for the travelers who set off to the city carrying their dreams…
(Ross): You're… gonna protect? With such forced justice…
(Alba): IF I LEAVE CORD-SAN HERE, WHAT KIND OF HERO WILL I BE?!
(Ross): So you're better than I thought.
(Ross): Just leave the rest to big brother.
(Guilty Justice): It's okay, don't sweat it. Because I'm the ally of Justice, Guilty Justice, see!
(Cord): YOU IDIOT! YOU STILL HAVE THE RESPONSIBILITY TO PROTECT THE WORLD PEACE
(Ross): I'm royal soldier Ross. Nice to meet you.
Trivia
[
]
A bundle that is included in the BD
This chapter comes in the typical manga format with the first five pages colored
It's revealed how Ross got his initial hairstyle